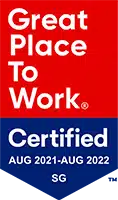 Digital commerce is built on trust. So are great companies.
Join the Circle of Trust
Why Forter?
At every point along the digital commerce journey, businesses must make a critical decision: Can I trust this customer? Answering this simple question accurately and instantly is powerful—it can accelerate revenue growth and strengthen connections with customers.
Right market, right time
In 2021, 16% of all commerce was digital. By 2040, 90% of all commerce will be digital. That transformation requires trust.
Differentiated product, delighted customers
Forter has been recognized as the "clear leader" in its market, processing more transaction value and maintaining less than 1% customer churn.
Incredible humans
Forter has top talent everywhere you look … but we're not just good at our jobs, we pride ourselves on being good humans.
What we believe
You could say that we've formed a circle of trust that includes our employees, customers and partners. And that's because every action we take is informed by six values—and yes, they spell IMPACT!
Inclusive.
By creating an environment where everyone feels they belong, we can win as one team
Mission-driven.
We have a clear sense of purpose and are willing to go the extra mile for customers
Principled.
When we make decisions, we do what's right
Attentive.
We are present and always listen first
Courageous.
We dare to take risks and view mistakes as learning opportunities
Transparent.
We openly share ideas, information and opinions because we trust each other
How we work
Here are some of the methods and milestones that define our culture
Forter Week
Once every year (when it's safe to do so) we gather the entire company in one place (Lake Como, Lisbon, etc.) to align, learn and celebrate
4.5 Day Weeks
Time away from work is critical to stay fresh. In Israel, employees take every second Sunday off. Across the rest of the world, Fridays end at 1PM
Remote-friendly
We are a global organization, so we create opportunities to connect virtually through cooking classes, yoga sessions, trainings, monthly all-hands and more
Career development
We offer training programs, define clear ladders and ensure internal mobility so employees can have multiple careers all at Forter
Who we are
Come work with us!
Help us grow the ecosystem of trust bringing brands and consumers together closer than ever before
View All Openings